CanCan看看™, a smart online tool, helps you predict and control multi-company business and cash flow, effectively and securely.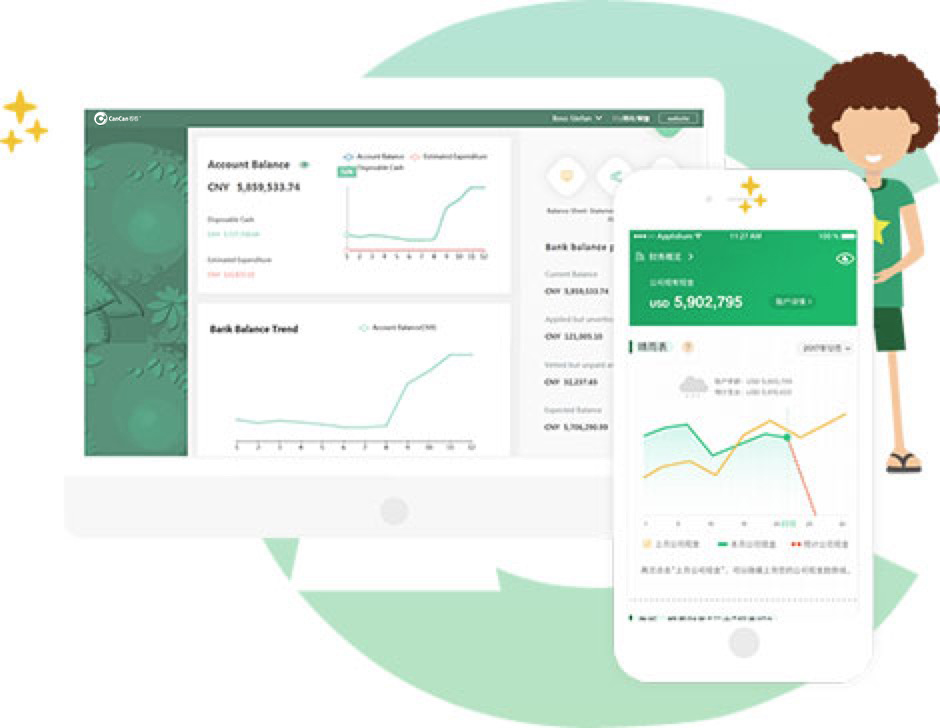 CanCan看看™ is a Prediction Tool
Unlike Traditional Accounting Software.
For better business decisions you can view timely forecasted
financial statuses anytime based on analysis by CanCan看看™️.
Review and Submit Reimbursements,
Projects, and Invoice Applications from Different Companies.
Team members can submit timely applications for expenditures,
new projects, and invoices.
The boss can review applications and overview business
and overview business based on real-time financial statements.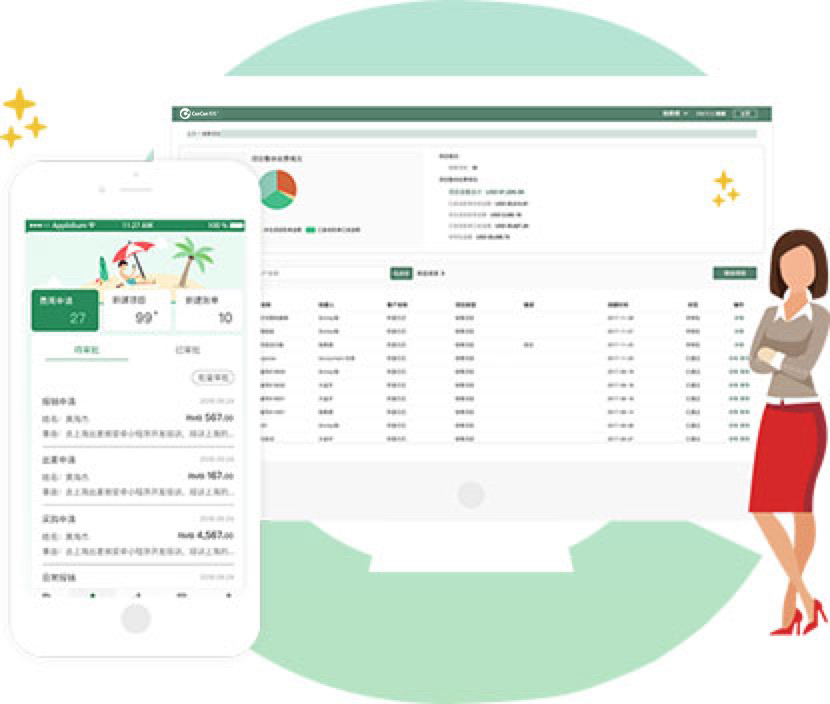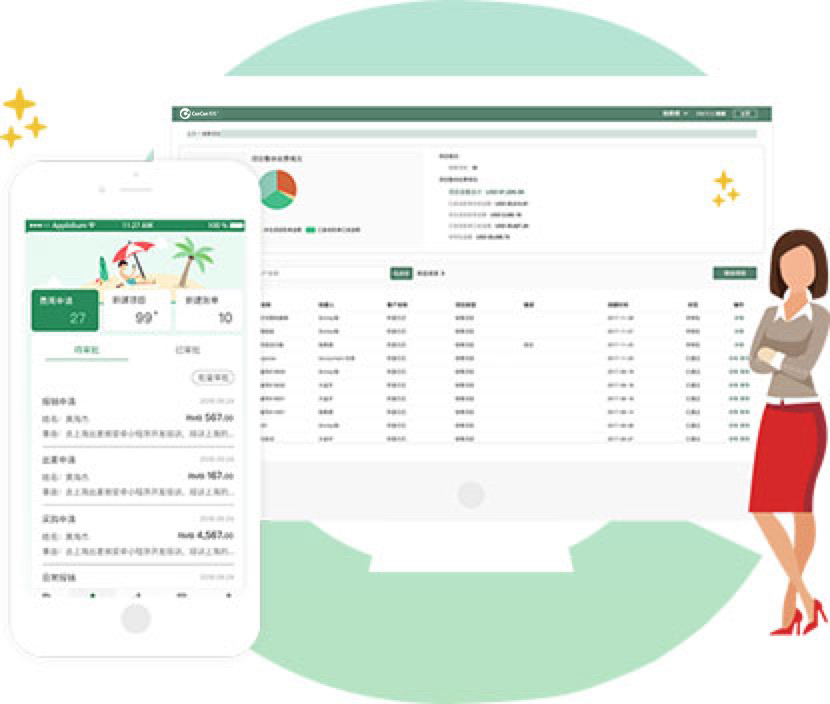 Review and Submit Reimbursements,
Projects, and Invoice Applications from Different Companies.
Team members can submit timely applications for expenditures,
new projects, and invoices.
The boss can review applications and overview business
and overview business based on real-time financial statements.
Team Members
Katherine Lui
Founder
MBA, HKICPA & CPA (Canada Ontario)
Ms. Katherine Lui is a passionate professional accountant and a FinTech entrepreneur developing a software as a services business that may disrupt the world's accounting industry. In her past 30 years of work (with almost 25 years in China), she worked in KPMG for 12 years on earlier years China mega IPOs, then Private Equity firm and then in 2008 she started a consulting firm specializing working with Venture Capital funds on carrying out financial due diligence on tech and internet target companies. In 2013, she launched the innovative acting CFO services and 3 years later in 2016 she decided to create a new form of financial information cloud-base software and named CanCan 看看™ that may disrupt the whole accounting industry.
She demonstrated her creativity via offering solutions to conquer challenges along her way of becoming a true entrepreneur and she is always fascinated by people she met and the innovations that disrupted the world. During the past few years and during the present period, she worked/is working with some of the fastest growing companies in China to become Unicorn companies. She was the acting CFO who implemented the financial strategies at VIPSHOP (the third largest e-commerce site in China) and YIDAO YONGCHE (a Chinese Uber) when they were at their early stage and prepared these companies to be ready for multiple rounds of fund raising.
Currently Ms. Lui leads a team of about 40 people at 4 offices in China/Hong Kong and works closely with entrepreneurs in the field of tech and innovation as if they were their in-house CFO. She believes with her ex-Big 4 professional team and their own software, they will be able to eliminate the current inefficiency in the creating of the financial information, the processing of it, the reporting and sharing of such information to stakeholders.
Ms. Lui is an active supporter for bold innovations and contributed her time and knowledge in the entrepreneurial world. Ms. Lui sat as on the judging panel at a few competitions and amongst those are: The "Elevator Pitch Competition" by HKSTP 2017 and the "HKUST25 Projects" by HKUST in 2016. She also is the CFO of FEW (Female Entrepreneurs Worldwide) and the Finance Director of Entrepreneurs' Organization Beijing International (a global non-profit organization with 12,000+ members from 53 countries, whose stated mission is to "Engage leading entrepreneurs to learn and grow."). Ms. Lui also works as the Expert in Residence for China Accelerator – a leading startup accelerator in China operated by SOSV, with a mentorship-driven program helping early stage international companies excel.
Ms. Lui filmed a series of videos in late 2017 to share her experience in assisting her entrepreneurial clients in their fund raising and exits processes with the title "Exit Strategies – from the Founder's point of View". These videos are available via FEW and the Showmuse App.
In the formative years at CanAsia Consulting Group, a boutique transaction services firm with offices in Hong Kong and Shanghai, Ms. Lui led her team by focusing on providing financial due diligence services for investors checking on their target companies. As a result, some of these target companies (such as VIP Shop – NYSE: VIPS) sought Ms. Lui's team to advise on post investment financial matters as: CFO related service areas (fund raising, financial controls, budgeting) and Key Performance Indications for senior managements, employee options value calculating advisory. It is this transition and the requirements from her fast-growing company clients that inspired Ms. Lui to roll out her current product, an acting CFO service with our proprietary software – CanCan看看™️ to China and the world.
Prior to establishing CanAsia Consulting Group, Ms. Lui worked at KPMG Toronto, Shanghai and Hong Kong for almost 12 years mostly on IPO and Merger & Acquisition projects such as listing of China Mobile and Sinopec; and the acquisition of 康 師 傅 's (Master Kong) beverage department by Asahi Breweries, Ltd. She left KPMG in late 2004 and co-founded a private equity firm Centerstone Partners to build international business strategies in medical equipment and pharmaceutical field that succeeded in closing a pharma deal with a single green-field company valuing at US$100 million in 2007.
The CanAsia team was involved in more than 200 deals the past few years and the total value have exceeded US$2 billion in total deal size.
Ms. Lui graduated from University of Toronto (Bachelor of Commerce) and got her MBA from Schulich School of Business of York University, Canada. She is a practicing Certified Public Accountant in Hong Kong and a member of the Institute of Certified Public Accountant of Canada. She also passed the American Institute Certified Public Accountant examination and passed that before she left North America in mid 1990s.

Features
Apply for Payments

All staff can apply for and review reimbursements with just one click.

Manage Projects

Operating costs are organized via smart project management.

Multi-Currency

Streamline records of multi-currency deals to boost your international business.

Cross-Border

All your business in one place even when flying around the world.

Real-Time Analysis

Monitor corporate health with timely financial statements.

24/7 Support

Our customer service team is there for you regardless of question or issue.

Send Invoices

Simplify sending and classifying invoices to earn even more money.

Easily Accessible

Stay updated with you business status by phone, tablet, and computer.

Professional Consulting

Our financial experts are here to help with fundraising, FDD, M&A and more.

Custom Accounts for Different Positions

Specialized features for bosses, accountants, directors, investors and more.

Cash Flow Forecast

Budget with full insight and confidence, with financial forecast at hand.

Multi-Company

Manage different companies' finances within the same system.